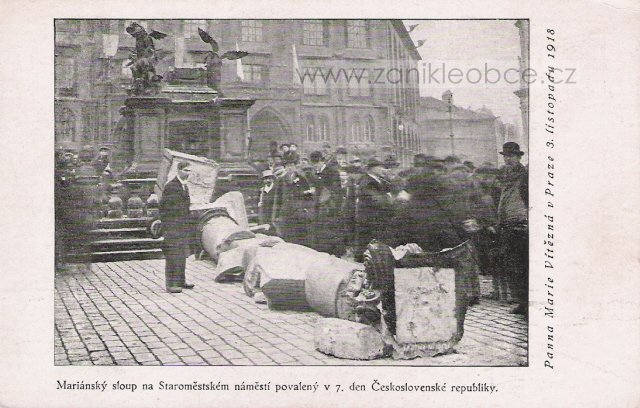 Protože se na různých webových stránkách stále objevují informace o údajném podílu Milady Horákové, rozené Králové, na stržení tzv. mariánského sloupu na Staroměstském náměstí v Praze dne 3. listopadu 1918, pokusím se na tomto místě o analýzu této otázky z technicko-historického pohledu.
Účast tehdy šestnáctileté (*25/12/1901) Milady Králové (až od roku 1927 provdané Horákové) na demonstraci 3. listopadu 1918 na Staroměstském náměstí v Praze není nikde doložena (dokonce ani ve velmi podrobné Kronice 20. století), lze ji ovšem samozřejmě považovat za možnou. Přímou účast Králové na stržení sloupu, a zejména to, že měla ona sama přehodit soše P. Marie na vrcholu sloupu smyčku přes hlavu, považuji za vysloveně nepravděpodobnou. Pouze jako lidovou tradici to uvádí i komentář k novinovému článku Jaroslava Durycha z roku 1922 o stržení sloupu na webovém serveru KatolíkRevue.
Sloup byl stržen ve spolupráci s žižkovskými hasiči, kteří k tomu použili žebřík. Na žebřík určitě musel někdo vylézt a na sloup upevnit lano, kterým byl pak sloup po rozkývání povalen, a nárazem o dlažbu se rozlomil na několik kusů.
Pochybuji, že by do výše téměř 16 metrů k hlavě sochy na vrcholu sloupu hasiči pustili po žebříku, opřeném mimochodem nejspíše o hruď či záda P. Marie, šestnáctiletou dívku (například plnoletost byla tehdy až od 24 let). Žel, patrně neexistuje žádná fotografie ze strhávání sloupu, která by byla k tomuto problému skutečně nejprůkaznějším pramenem. Alespoň na internetu jsem žádnou takovou nenalezl. Z toho, kam bylo lano na sloupu uvázáno, bychom mohli leccos odvodit. Z rytin, na nichž je sloup vyobrazen, totiž vyplývá, že postupem "smyčka kolem krku sochy" pravděpodobně sloup povalit nebylo ani technicky možné – sloup by v takovém případě zůstal stát, protože by se nejspíše přelomil ve svém nejužším místě – mezi hlavicí sloupu a nohami draka, po jehož hlavě P. Marie šlape. Pak by bylo ovšem nutné vylézt opět na žebřík a lano na torzo sloupu (nyní již bez sochy) znovu upevnit. Proč by ale někdo chtěl na sloup lézt dvakrát, když to nebylo vůbec potřeba?
Mám zato, že pro stržení celého sloupu naráz (včetně sochy na jejím vrcholu) bylo nejlépe upevnit lano rovnou těsně pod hlavici sloupu, a to asi ne přehozením smyčky přes celou sochu se svatozáří a přes rozepjatá křídla draka, nýbrž omotáním dříku sloupu pod hlavicí lanem a uvázáním pevného uzle. Na takovýto úkon by dle mého názoru mladá Králová jen těžko stačila, zatímco každý řadový hasič by to provedl jistě hravě, rychleji a určitě bez závratě.